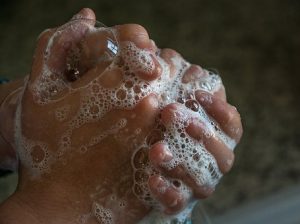 Take the initiative to protect yourself from seasonal influenza this season.  Influenza (Flu) is a virus that is a contagious respiratory virus.  It is important for everyone 6 months of age and older to get vaccinated each year.  There are also a few more steps you can take to prevent the seasonal flu.
Steps to prevent the flu:
Wash your hands- it is important to wash your hands frequently throughout the day.
Avoid close contact- steer clear of family and friends when they are sick to avoid catching their germs.
Cover your nose and mouth- Whenever you cough or sneeze, be sure to cover your mouth with your elbow to avoid the spread of germs.
Avoid touching your face- Keep your hands off of your eyes, nose, and mouth. These areas are portals for germs to enter your body.
Stay home when you're sick- Avoid contact with co-workers, family, and friends when you are sick to avoid spreading your germs.
Know when to seek medical treatment- It is important to monitor your signs and symptoms.  If you have flu-like symptoms you may want to see your primary physician for anti-viral medications.
If you are sick with the flu:
Some people may only experience mild symptoms of the flu.  However, sometimes the illness is more severe and leads to complications.  Follow these tips to help yourself recover faster when sick with the flu.
Get plenty of rest- Sleep restores your body's immune system.  Avoid strenuous activity and added stress.
Drink fluids- Dehydration is common when sick. Providing your body with enough fluids can lessen your chance of dehydration.  Drink plenty of water and sports drinks will to stay hydrated.
Stay home- The influenza virus is highly contagious.  It is important to take off work and school when you are sick so you don't spread the virus.
Avoid close contact- The influenza virus may spread quickly to those you are in close contact with. Distance yourself from family and friends during the time that you are sick.
Flu vaccines:
Take the initiative to get vaccinated!  It is important for you to receive a flu vaccination every year.  Vaccines provide your body with the immunity and protection against influenza viruses.  There are many convenient locations you can go to get your flu shot.
Your primary care physician
The Ocean County Health Department offers vaccines at various locations throughout Ocean County. For a schedule of upcoming flu clinics in Ocean County, click  HERE  or call Clinic Services at (732) 341- 9700, Ext. 7604
Many pharmacies now offer flu shots. For local participating pharmacies, click HERE
Additional resource:
https://www.cdc.gov/flu/protect/habits.htm